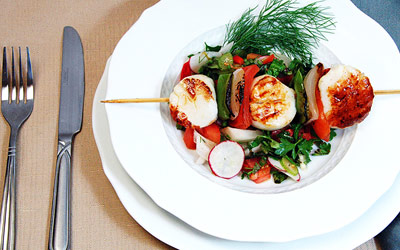 Ingredients
(marinade)
1/3 cup fresh squeezed lemon juice
2 Tbls. dry vermouth
2 Tbls. olive oil
2 cloves garlic, finely minced
½ tsp dried oregano
1 ½ tsp fresh chopped thyme
1/8 tsp ground black pepper
Skewers**
1 lb. fresh sea scallops
1 red bell pepper, cored and cut into chunks
1 medium red onion, cut into chunks
1 vine-ripe tomato, seeded and cut into chunks
Serves 4
Directions
In a mixing bowl whisk together all the marinade ingredients. Spoon 1/3 of the mixture into a small bowl and set aside. Lay the scallops out on a paper towel and pat dry. Add the scallops to the rest of the mixture, stir to coat. Cover the bowl with plastic wrap and refrigerate for 20 minutes.
**if you are using wooden skewers, be sure to soak them in warm water for 30-40 minutes prior to grilling.
Preheat grill to medium. Thread the scallops and chopped vegetables on the pre-soaked skewers, alternating the scallops and vegetables. Place the skewers on the grill and cook until the scallop is opaque in the center and the vegetables are crisp, approximately 10-12 minutes. Turn and brush the skewers occasionally with the reserved marinade.
Serve skewers over a bed of mixed greens with shaved fennel and radishes.