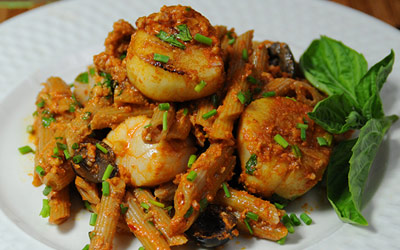 Ingredients
1 (7 ounce) jar roasted red peppers, drained
¾ cup walnuts
3 cloves garlic, chopped
2 ½ tablespoons olive oil
1 tablespoon fresh sage, chopped
1 ¼ teaspoon salt
¾ teaspoon lemon juice
1/8 teaspoon cayenne pepper
1 pound penne pasta, dry
1 ½ pound sea scallops (10 to 20 per pound)
1/8 teaspoon pepper
1/3 cup black kalamata olives, halved and pitted
1 tablespoon fresh chives, chopped
1 tablespoon fresh flat leaf parsley, chopped
Serves 4
Directions
In a food processor puree the red peppers, walnuts and garlic with 1 ½ tablespoons of olive oil. Add in the sage, 1 teaspoon of salt, lemon juice and cayenne pepper.
In a large pot of boiling, salted water add the penne and cook until ala dente, approximately 10-12 minutes. Season the scallops with salt and pepper. Heat a sauté pan over medium heat and add 1 tablespoon of olive oil. Cook the scallops until they are opaque in the center and begin to caramelize, approximately 5-6 minutes.
Drain pasta when done, reserving ½ cup of the pasta water. Toss the pasta with the reserved water and add the red pepper pesto to coat the penne. Gently mix the scallops, remaining salt, olives and chives with the penne.
Garnish with chopped fresh parsley. Serve with crusty Italian bread.
Wine Selection: Pinto Grigio