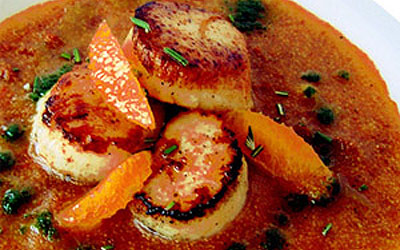 Ingredients
2 tablespoons extra-virgin olive oil
14 fresh sea scallops, patted dry with paper towels
2 blood oranges, segmented with their juice
1/2 lemon, juiced
1 bunch of pea shoots
1 tablespoon lemon juice
sea salt
fresh ground black pepper
Serves 4
Directions
In a saute pan, over high heat, add the olive oil.
Add the scallops and cook until browned on one side
Flip the scallops and cook two minutes more.
Deglaze pan by adding the blood orange segments and both juices.
Place on serving plates and garnish with pea shoots, seasoning with salt and pepper to taste.