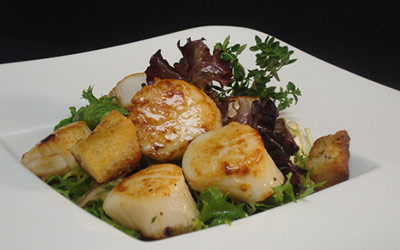 Ingredients
1 box spring mix
8 slices bacon, cooked and chopped
2 tomatoes, diced
1 small red onion, julienned
1 pound of sea scallops
salt and pepper to taste
Vinaigrette
juice from 1 lemon
¼ cup extra virgin olive oil
½ bunch chives, chopped
½ teaspoon Dijon mustard
salt and pepper to taste
Serves 4
Directions
Mix greens in a large bowl with tomato, onion, and sautéed crispy bacon.
In a small pan, sauté the scallops with oil, salt, and pepper until the natural sugars caramelize to a golden brown.
For the dressing, mix ingredients in a bowl and whisk. Add to the mixed greens and place on a plate. Arrange scallops on top. Serve.