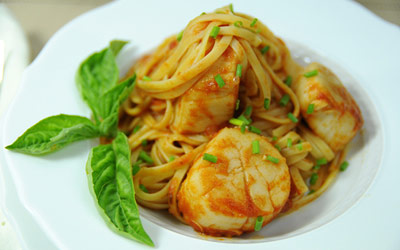 Ingredients
12 oz. dry linguine
1 ½ tablespoon extra virgin olive oil
3 cloves garlic, sliced thin
1 – 28 oz. can crushed tomatoes
½ cup freshly grated Parmesan cheese
1 lb. sea scallops
½ cup fresh basil, chopped
salt and pepper
Serves 4
Directions
Cook linguine according to package directions. After draining pasta toss with olive oil to keep from sticking and set aside.
In a sauté pan over medium heat sauté the garlic in olive oil until it just becomes fragrant, add the can of crushed tomatoes and reduce heat. Let simmer for 15 minutes, season with salt and pepper to taste. Pat scallops dry using clean paper towels and season with salt and pepper. Add scallops to the tomato sauce and simmer for another 5-7 minutes until scallops are firm and opaque in the center.
Toss in the fresh basil just before serving. Serve with freshly grated Parmesan cheese.