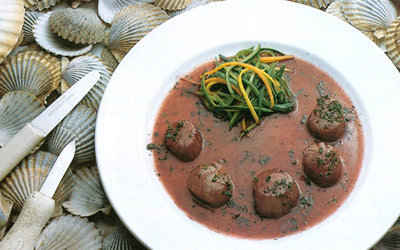 Ingredients
2 pounds of sea scallops
juice of ½ lemon
salt and freshly ground white pepper to taste
1½ tablespoons unsalted butter
2 tablespoons olive oil
Vermouth Sauce
3 small shallots, finely chopped
½ cup dry white wine
½ cup sweet vermouth
½ cup chicken stock
½ cup heavy cream
1 tablespoon butter, cut into small pieces
1/3 cup cooked tomatoes, chopped
salt and freshly ground pepper
1½ tablespoons chopped fresh chervil leaves
Serves 5
Directions
Place the scallops in a bowl. Season with salt, white pepper, and sprinkles of lemon juice. Allow to rest for 5 minutes.
In a large, heavy sauté pan, combine the butter and oil and heat over a low flame just to melt the butter. Note: Warm the butter but do not overheat it so that it changes color. Add the scallops and set the heat on high. Sauté for 5 to 7 minutes. Remove the scallops from the sauté pan and keep warm.
To prepare the Vermouth Sauce: Add the shallots to the pan and sauté for 1 minute. Add the wine, vermouth, and chicken stock and cook over high heat until the liquid reduces to ¼ cup. Add the heavy cream and reduce the heat. Then add the cold butter and mix well. Add the sautéed tomatoes and season with salt and pepper to taste.
To serve: Place the scallops in a serving dish (or, for added effect, in scallop shells). Gently pour the vermouth sauce over the scallops and, as a garnish, sprinkle with chopped, fresh chervil leaves.