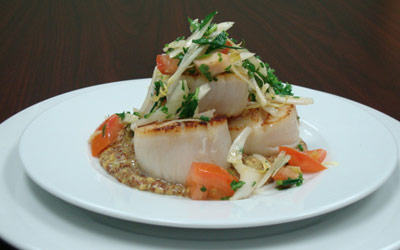 Ingredients
4 sea scallops
2 Belgian endives, cored, leaves cut into 1/16-inch julienne
2 tablespoons finely diced tomato
2 teaspoons minced fresh chives
1 teaspoon minced fresh cilantro
2 tablespoons olive oil
juice of 1 lemon
salt and pepper
Grainy Mustard Vinaigrette
1 tablespoon whole-grain mustard
2 tablespoons red wine vinegar
6 tablespoons olive oil
salt and freshly ground black pepper to taste
Serves 2
Directions
Whisk the mustard and vinegar in a small bowl. Slowly whisk in the oil. Season the dressing with salt and pepper.
In a medium bowl, toss the julienned endives with the tomato, chives, cilantro, olive oil, and lemon juice. Season with salt and pepper.
Heat a medium nonstick sauté pan or skillet over high heat. Season the scallops with salt and pepper. Sear for 1 to 2 minutes on each side.
Spoon the vinaigrette onto a plate; place scallops on the dressing and then top with salad. Serve.