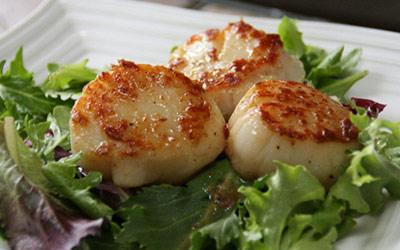 Ingredients
¼ cup low-sodium soy sauce
1 tablespoon rice vinegar
3 tablespoons fresh lime juice
1 ½ teaspoons sesame oil
1 tablespoon fresh ginger, peeled and thinly shredded
1 scallion, finely chopped (green part only)
½ teaspoon kosher salt
Fresh ground pepper to taste
1 tablespoon unsalted butter
1 tablespoon olive oil
1 lb. sea scallops, rinsed and patted dry
Fresh mixed greens to garnish.
Serves 4
Directions
Combine first six ingredients in a bowl. Cover and refrigerate for at least 1-hour.
Season scallops with salt and pepper. Heat the oil and butter in skillet over med-high heat. Add the scallops and sauté for 1 minute, until they just start to get firm. Add 4-6 tablespoons of the lime ginger sauce to the skillet to completely coat all the scallops. Continue to sauté for another 3-5 minutes, until scallops are firm and opaque on the inside and golden brown on the outside. If pan becomes dry add more sauce as needed. Serve on a bed of mixed spring greens and additional sauce on the side.